Mother's Day is just around the corner, and it's best to start making plans to honor the special woman in your life. It only comes around once a year, so take advantage of the opportunity to spoil your Mom!
You don't need to dish out a lot of money to show how much you truly appreciate and understand everything she's done for you. Most moms would probably agree that quality time with their kids is the best gift! Spending the day doing a fun activity together can be a great bonding experience and something you can tell stories about for a long time.
If you're on the lookout for a fun activity with your Mom on this special day, we're here to help. Below are 7 unique Mother's Day ideas for 2023.
1. Food Tour for Your Foodie Mom
After years of enjoying her home-cooked meals, it's time to switch roles and treat her this time around! Indulge in a guided tour of local restaurants where you can spend more time together while enjoying some amazing meals. If your mother has a specific cuisine that she favors, check out restaurants where she can experience all her favorite dishes.
If you want to celebrate with your whole family, food tours are a safe choice to suit different palates.
2. Hiking for Your Nature-Lover Mom
Does your Mom love nature but doesn't get much time outdoors? Explore the beauty of nature by hiking!
Whether she prefers spending time in the woods or enjoying a view of the ocean with the sound of crashing waves, a hike is a fantastic way to spend quality time together. You can both de-stress, disconnect, breathe in the fresh air, and relax far away from your responsibilities.
3. Pottery Class for Your Art-Lover Mom
A trip to an art gallery can be a bit clichéd for your artsy Mom. If you want to try something unique, opt for a pottery session instead! Check out local museums and cafes that offer a class you can enroll in. You never know what hidden talent you may have in creating pottery, so why not give it a shot? It's something you could do together, or treat Mom to in her spare time.
4. Shopping Challenge for Your Fashionista Mom
If you and your Mom are shopping enthusiasts, you likely know each other's tastes very well. Instead of just buying her some clothes or going shopping together, why not make a regular shopping trip just that much more exciting by setting a challenge for each other?
Set a budget, then go shopping together – but for each other! Your Mom gets to choose your clothes, and you pick-out some for her. Indulge in a fashion show and marvel at your new ensembles when you get home!
5. Axe Throwing for Your Thrill-Seeking Mom
Have you and your adventurous Mom done your fair share of bowling or mini putt? It's time to shake things up, so why not try axe throwing?
We're biased, but we think FlannelJax's is the best place to start if you're looking for an out-of-the-box activity to make your thrill seeking Mom's celebration memorable.
At FlannelJax's, you can unleash your inner lumberjack by flinging axes and cheering on your wonderful Mom! And the best part is – anyone can do it. Even if you've never been Axe Throwing before, our trained Lumberjacks will have to slicing that bullseye in no time.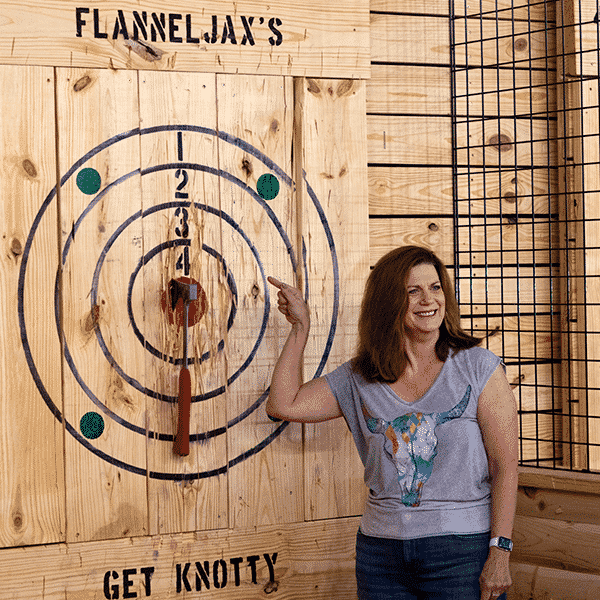 6. Visit A winery for your sophisticated mom
Does your refined mom love a good glass of Merlot?
Take advantage of the beautiful spring weather by going with her to a local winery. Wander through a vineyard on a guided tour as the two of you sample the best pours and learn the rich history of the wine industry. Make it a whole-day event by grabbing lunch and don't forget to grab a few photos to capture all your awesome memories!
7. spa treatment for your over-worked mom
Your mom has done a lot for you over the years and dealt with every possible request you and your siblings have thrown her way. It's time to return the favor and pamper her for the sake of getting pampered!
Give your over-worked mom a nice, relaxing day by booking her at a beauty parlor for a spa treatment, complete with facials, seaweed wraps and the works!
No matter what you end up choosing, make it special. After all, Mother's Day only comes once a year and every mom deserves a little bit of recognition!
We hope this list of unique activities can help you plan the perfect Mother's Day for your Mom. And even when there's no occasion, you can bond with your family, friends or coworkers at FlannelJax's.