Axe Throwing Gift Cards
Axe Throwing Gift Cards at FlannelJax's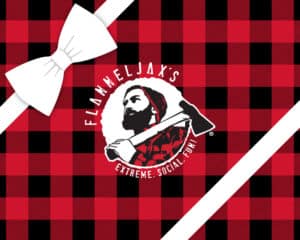 Give the gift of an unforgettable experience with FlannelJax's Gift Cards. Axe Throwing Gift Cards are available in $25, $50, and $100 denominations. Toss one to a friend for an axe-citing birthday experience, a co-worker for an axe-ellent Secret Santa gift, or maybe you'll be lucky enough to receive one!
FlannelJax's Gift Cards are the perfect gift for all the wannabe-Lumberjacks in your life.
Give the Gift of Axe Throwing
Buy Online
Gift Card Terms and Conditions:
Use of any FLANNELJAX'S Gift Card constitutes acceptance of these Terms and Conditions.
Gift Card issued by FLANNELJAX'S are redeemable for products or services that are i) designated by FLANNELJAX'S at their discretion and ii) purchased at FLANNELJAX'S locations only. (Gift Card may be restricted from use for food and beverages (including alcohol sales). Gift Card may not be used to purchase other Gift Card, or be redeemed or exchanged for cash or credit except where required by law. If applicable law requires FLANNELJAX'S to redeem Gift Card for cash, check, or other means of payment, FLANNELJAX'S reserves the right to select any of the foregoing at its discretion.
Gift Card can only be redeemed at the FLANNELJAX's location where purchased.
Your Gift Card is freely transferable. However, replacement Card will not be issued for lost, stolen or damaged cards.
FLANNELJAX'S Gift Card must be present when being used for payment in-store.
Every purchase made with a Gift Card (plus any applicable taxes and other fees that may apply) is deducted from the Gift Card balance and any unused Gift Card balance will remain on the Gift Card account for future purchases. No change will be given for any unused balance, unless required by law.
If the total value of your purchase is greater than your Gift Card balance, then you must provide your credit card details, debit card, cash or other accepted method of payment to cover the balance of transaction.
Refunds on purchases made with FLANNELJAX'S Gift Card will be applied to the Gift Card.
FLANNELJAX'S reserves the right to change these Terms and Conditions from time to time at our sole discretion.
Gift Card have no associated fees or expiration dates.
FLANNELJAX'S reserves the right to reject the redemption of Gift Card and request alternative forms of payment and take legal actions, if FLANNELJAX'S reasonably believes that Gift Card are abused or used or obtained fraudulently.
If you need assistance, please contact the FLANNELJAX's location where purchased. Your Gift Card number will be required for all inquiries.