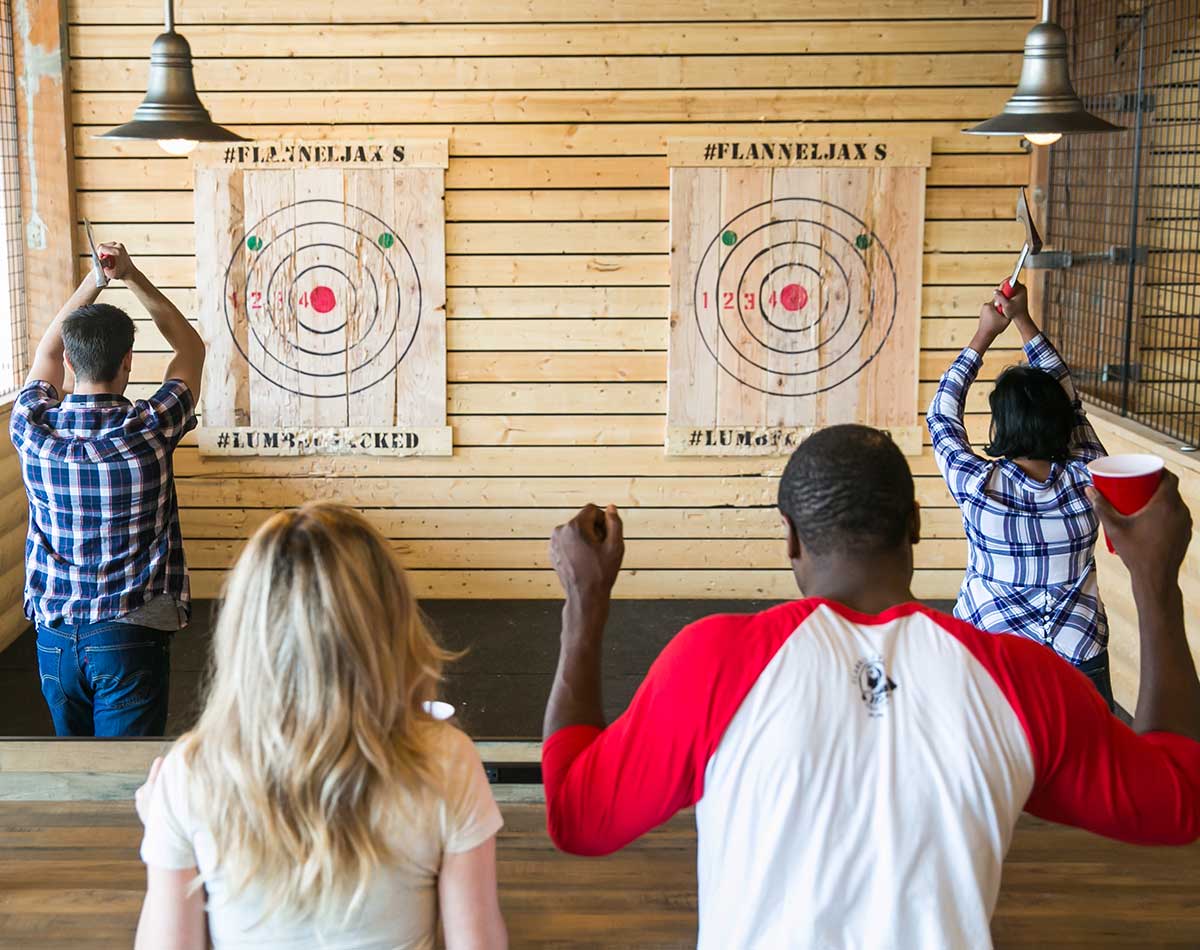 FlannelJax's Is Back
FlannelJax's in Grand Rapids, MI and St. Paul. MN are NOW OPEN! Start Swinging
Stay tuned Madison, WI… We'll be back soon!
Grab your friends, coworkers and your best plaid shirt and experience the excitement of axe throwing. Unleash your inner Lumberjack at FlannelJax's!
More than Just Axe Throwing
FlannelJax's offers a variety of competitive, social games designed to let you throw down with a group of any size. Come experience everything FlannelJax's has to offer.
Don't just break the ice… Smash through it with an axe! Book a team building event today!
Axe throwing at FlannelJax's is the most exciting way to challenge your friends! Reserve your lane now!
Tis the season for Axe Throwing! Throw an unforgettable holiday party for your team at FlannelJax's.
Don't take our word for it…
"Amazing first time experience. Ron was a great lane coach. I was striking out big time, until he taught me another technique. Everything was by COVID regulations and didn't feel restricted by new standards. Had a great time, and I forgot the other man that was there but he was very pleasant and I highly recommend this place if you're looking for something new or a afternoon or evening out."

Ameseia R.

September 2020

"Though doing "normal" things right now seems incredibly difficult as we do not want to contribute to the rise of cases, we felt as though FlannelJax's made the environment welcoming, clean and we had an overall great experience. I would HIGHLY recommend it to anyone. The place was clean, ready for guests, and the employees are incredibly nice."

Lindsay B.

July 2020

"It was really fun even during the COVID precautions. They had mask if you didn't bring one, hand sanitizers, and disinfectant sprays at each station. Maxwell was our ax throwing teacher and he did awesome, he was really professional. Overall first experience there was great! Will def. go back again."

M.

July 2020