Employee Appreciation Day is celebrated every year at the beginning of March, marking an important day when you should recognize and celebrate the great people working on your team.
Not only does this appreciation create team-building opportunities – something FlannelJax's knows a lot about – but it's also essential to boost employee morale and increase job satisfaction. Happy employees are better performing employees. At the same time, a strong relationship with your employees decreases turnover. While Employee Appreciation Day is a great reminder once a year, it's important to look for ways that you can make appreciation part of your everyday company culture.
Here are a few options you might consider when planning for Employee Appreciation Day:
1. Catered Meals:
Bring in delicious food to keep your employees fueled for the day. Send a notification in advance so people know that they don't need to pack a lunch since an awesome meal will be provided for everyone in the company. The simplest solution is to hire a local catering service or order buffet-friendly takeout and set-up in the breakroom – Pizza is never a bad idea either.
2. New Office Equipment:
Give your employees a gift that will improve their daily life in the office. An example might be standing work stations or upgraded computers. Fitness trackers can be used for employee step competitions throughout the year and can help improve your team health.
3. Time Off:
If things aren't too busy in the office, consider giving employees a bit of extra time off. Send everyone home a few hours early on Employee Appreciation Day so they can spend time with friends or family. If you can't spare the reduced hours, then you could double breaks and lunches. During the summer, half days are common so people can get a head start on their weekend travels.
4. Ongoing Snacks and Drinks:
Give your employees a gift that continues throughout the year. For example, adding a treat corner or a new coffee station in the breakroom can be a great way to say "thank you" over and over again.
5. Plan a Social Outing:
Sometimes, getting out of the office is the best way to create an enjoyable experience for your employees. Look for fun activities in the area that people can enjoy, such as a movie theatre rental, bowling, or our personal favorite, Axe Throwing!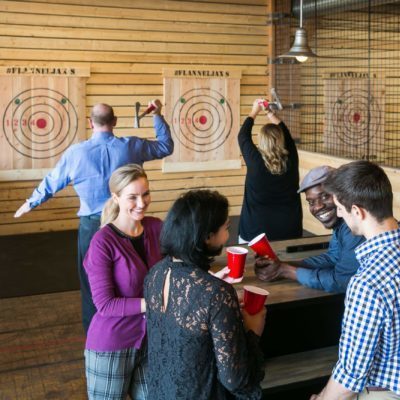 Your employees won't forget the fun that can be had throwing axes with co-workers. If you want to pump up your employees and tell them thanks for their hard work, then book a group activity here at FlannelJax's. We can help you plan an extreme team building event for any sized group to help make your employee appreciation day the best it can be. Just find a location near you and give us a call – your employees will thank you for it!