Did you know that 86% of employees cite ineffective collaboration and communication as the primary cause of business failure? To ensure that doesn't happen to you, you should empower employees to do their best work with a top-tier team culture.
What is team culture?
Team culture refers to the common goals, beliefs, values, thoughts, behaviors and attitudes that team members share within an organization. In a healthy team environment, each of these things work together synergistically to help teams achieve their goals.
Finding employees who are a culture fit for your brand is vital for organizational success. Ensuring the work ethics and principles of hires match eliminates potential complications and disruptions down the road.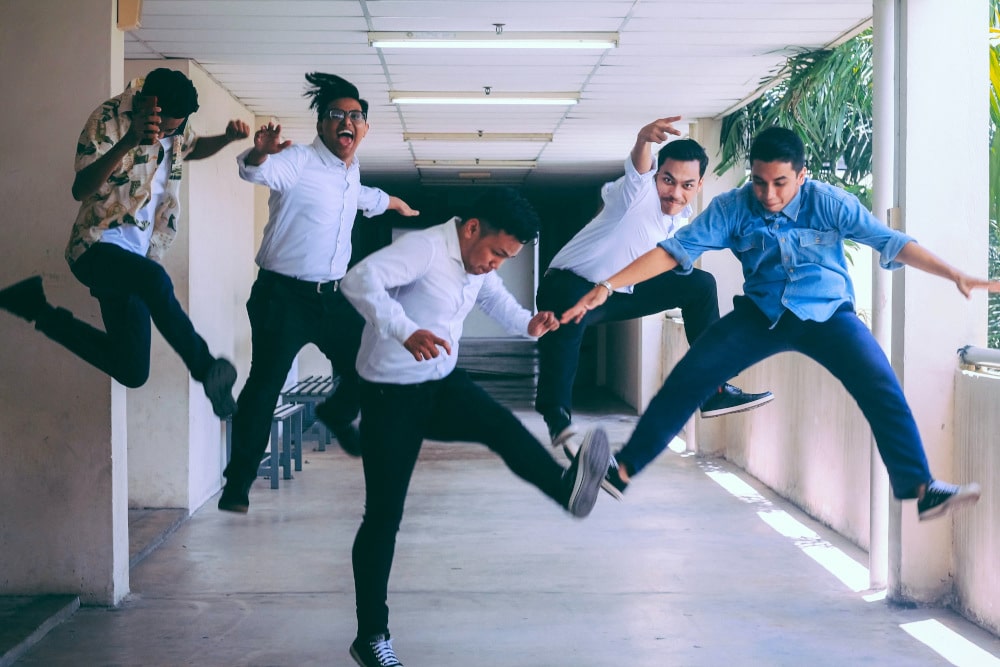 Benefits of good company culture
In a company where employees feel cared for, seen, understood and appreciated, you typically see:
Better productivity leading to better performance
Better employee retention rates, reducing resources spent on onboarding
Increased profitability
Improved morale and mental health
There's also the fun factor. Employees feel more joy while at work, reducing absenteeism and turnover rates.
How to improve your company's team culture
So, how do you build a team culture that's fulfilling and joyful? Here are four key areas to focus on to get your employees excited about work.
Get to know one another through social outings
Humans are social beings; we need emotional connections for learning and cognition. So, create opportunities for your team to get to know one another outside of the office. This is a great way to energize the workplace and foster meaningful relationships.
What sorts of activities can you do?
It doesn't have to be anything extravagant. It could be something as simple as happy hour at the nearest pub or a friendly competition of axe-throwing (Flanneljax's has you covered).
Whatever you choose to do, the key is to deliver memorable outings that your employees can enjoy – basically any unstructured activity where that doesn't involve work.
According to research, having a friend could make your employees more productive and improve their mood, positively impacting the kind of work they produce.
Meet regularly & prioritize communication
Seamless communication is vital in the workplace, as it allows individuals with different personalities to express their ideas and connect with others. However, hosting meetings every day is not the answer; it can be a significant drain on your resources and a waste of individual and group time.
Help your employees escape the meeting trap by:
Interacting with team members via email updates
Having monthly debriefs
Hosting a potluck where employees work together to fill the table
If you're not sure how to strike the right balance, you could send a short survey or questionnaire around the office to gather feedback from employees and nipping any lingering or potential issues before they become a real headache.
Offer constructive feedback
The right kind of feedback can help your employees learn and grow.
For example, instead of chastising your staff for their mistakes, help them understand where they went wrong and what actions they can take to address it.
This starts by creating a culture where people are not embarrassed or shy to ask for help. Some employees may not be accustomed to speaking their mind with their team or leadership, so it's important to encourage them whenever possible. Offer the reluctant ones the opportunity to leave anonymous feedback without fear of judgment. You'll be surprised just how much it increases honesty.
Once you do receive feedback, it's important that you find ways to implement changes, as employees will see that their input has meaningful benefits.
Recognize employee accomplishments
To keep employees engaged and cultivate a positive team culture, you need to balance the bad with the good – not all feedback needs to be critical. Recognizing your employees for their individual contributions goes a long way to keeping them happy and productive. Some other benefits include:
Enhanced confidence
Improved self-awareness
Increased understanding of outside perspective
Improved skill set
Improved morale
In addition, you must give credit where it's due – this has been shown to increase profits by as much as 29%! As a bonus, it will improve your relationship with your team, who will value you for the kind, compassionate leadership.
Encourage training & personal development
"There's always room for improvement." — Joey Logano.
You may think you've snatched the most talented professionals off the job market, but the truth is, without proper training and guidance, you won't be able to fully tap into their genius. To do that, you'll have to provide them with the resources they need to enhance their strengths and shore up any weaknesses.
Here are some amazing ideas to try:
Offer in-house training, access to industry books, and online lessons from relevant experts
Consider an internal mentorship program
Host a monthly lunch-and-learn initiative
Offering employees dedicated workspaces is also a great way to minimize distractions and help them keep their eyes on the prize.
Conclusion
Developing a positive team culture takes time and effort – a worthwhile allowance for most, as it makes employees feel happy, valued and supported, which translates into improved productivity and creativity. This leaves you with a team of high-performing candidates that are dedicated to taking your business to the next level.